Recently we have been convinced by our own experience that the media body known as «Tsargrad» TV channel has nothing in common with journalism and has but one goal: producing propaganda matters and doing public denunciations on the citizens of Russia.
If we take a report about our project as an example, we can plainly see that the employees of this media body (NB – they are no reporters) aim at putting any civil project in negative light by fitting them into cliché according to the pre set manual. The "Beware of them Database" was not an exception. The questions had been asked only for a show, and the final report has completely different sense. More info – HERE.
Our transparency and willing to conversate with these people has resulted in a public request from «Tsargrad" to the General Prosecutor's Office. That is the way of a real reporter, according to Malofeev's mercenaries, posing themselves as Orthodox Christian media with motto "Faith and Word".
Picture: "So it is as always. People, apparently related to Khodorkovskiy and denying this relation, have created a copy of Ukrainian "Peacekeeper" web-site in Russia to display the list of the "enemies of the people" or more likely the "enemies of liberal community". The "Peacekeeper" is blocked in our country as an extremist, firebrand web site. I ask to consider this publication as an official request to the Prosecutor General's Office for an investigation against the "Database. Bewareofthem" for violation of Russian laws".
A fragment form Afanasiev's report.
Our civil project that advocates compliance of legislation by both civilians and legal enforcers was shown in a negative sight and was accused in violating the Criminal Code of Russia, while ignoring all our comments regards the matter.
From now on "The Database" starts to monitor this TV channel's activity. The first of its employees have already been listed and labeled as "propagandists". We must once again note that the channel's employees do not have an objective to provide reliable information, but carry out purposeful work of destruction and hounding of civil activists.
Who is involved into this media?
The tsar of «Tsargrad» (the channel's idea was generally copied from American Fox News, but in poor quality) is Konstantin Malofeev – a professional "not-me-to-blame" person, posing himself to be a citizen with the highest «Christian» values.
Date of birth: July 3rd, 1974.
Place of birth: Moscow Oblast', Pushchino.
In fact he is a scandalous businessman, "Rostelecom" stockholder and previously an investment specialist, a member of the "League of Safe Internet" Board of Trustees, who initiated the drawing of web site black lists and an active supporter of censorship in the Internet.
In 2012 Malofeev was suspected of bribing voters during elections of deputies in Znamenskoye village, Ugran district, Smolensk Oblast', but in 4 years he managed to prove his innocense and turned to be a victim of the crime.
The same year he organized an attack on «VKontakte» web site to force Pavel Durov – the owner of the social network – and his partners to sell their shares.
In 2005 he started a "Marshall Capital" ("MarCap") company. Main fields of investments are telecommunications, media and technology along with real estate and agriculture.
"Marshall Capital" became a largest private stockholder of "Rostelecom" in fall 2010. Malofeev has started the Charity foundation of St. Basil the Great (2017) and the "League of Safe Internet". In 2009-2010 he was a member of "Svyazinvest" direction board and was the head of the comity of strategic development.

Besides that, the head of «Tsargrad TV» was suspected in credit fraud. VTB Capital plc filed a lawsuit to the Court of London against Konstantin. The businessman was detained and his flat was searched. However in late February 2015 the conflict with VTB has been resolved – a year ago the entrepreneur and the bank had signed a settlement agreement, abandoning mutual claims in the Court of London.
Raider after the South-East Ukraine
On July 22, 2014 the Main investigation department of Ministry of the Ukraine Home Office started a criminal investigation against Konstantin Malofeev on suspicion of creating a non legal paramilitary or armed group (article 260 of the Criminal code of the Ukraine). Later it turned out, that the communication between separatists and the Kremlin was carried out by Putin's confessor.
Putin's confessor Tikhon.
In late July Malofeev was included into the sanction list of the European Union.
Malofeev's ex-employees – Aleksander Borodai and FSB operative Igor Strelkov (Girkin) – occupied key positions in the self-claimed People's republic of Donetsk, and the Foundation of St. Basil the Great was helping "Cossack" formations fighting for separatists.
According to The Insider, coordination between Malofeev's people (be reminded that Girkin and Borodai are Malofeev's company employees) was carried out via Putin's personal confessor Tikhon (Georgii Shevkunov). The signals delivered by Shevkunov can come either from Putin himself, or from President's administration head Sergei Ivanov. In both cases it seems that Malofeev does not work on his own expense.
Management
The news service is headed by Andrei Norkin. Radio producer of «Commersant FM» Anatolii Kuzichev, Zakhar Prilepin, Iurii Pronko and philosopher Aleksandr Dugin also have their personal projects.
Since the start of the channel, Ilya Kuzmenkov has been its director general and chief editor. He is also a general producer of «Views&Values» web site and used to work on RenTV channel since 2005 to 2007 as a chief editor.
In April 2015 Denis Davydov was appointed as chief editor and deputy general producer. At the same time he is Chairman of the Board of the "League of Safe Internet», created by Malofeev.
Aleksandr Dugin – the inspirer of Tsargrad channel – is an ultra right ideologist, who since 1997 has been calling for restoration of Eurasian empire, "based on a fundamental principal of the common enemy" – mainly the USA and liberal ideals exported by it. Slightly resembling Dostoyevsky with his piercing stare and long grayish beard, Dugin says that many Russians return to conservatism disillusioned with liberal views, planted by Yeltsin in the 1990th.
Elena Sharoykina has been director general of Tsargrad channel since April 2016.
Retired lieutenant general of Foreign intelligence service and former head of Russian institute of strategic studies Leonid Reshetnikov has been the chair of the "Tsargrad" TV overseeing council since January 2017.
"Tsargrad" "minister" of propaganda
The author of the report on «Database» project.
Date of birth: May 16, 1989
Place: Moscow, Russia
2010-2014 – an employee of the pro-Kremlin TV channel "Russia Today".
Was one of the first to enlist to the «Tsargrad» staff in 2014.
Facebook: facebook.com/asafanasiev
Alternative Facebook: facebook.com/andrey.afanasyev.1848
VKontakte: vk.com/andrafanas
Instagram: instagram.com/andrafanas/
Twitter: twitter.com/asafanasyev
Brief information:
Was reporting on Donbass events during fall 2014 and personally was in the combat zone.
A propagandist involved in political denunciations, hounding opposition activists and incitement to war.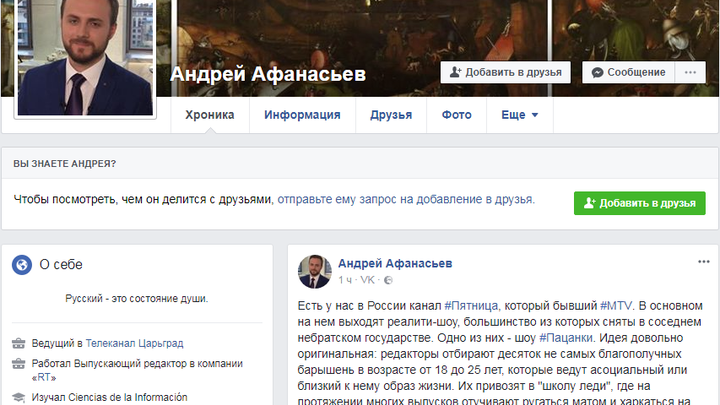 Tsargrad speaker encourages Federal communications service to run an investigation against «Pyatnitsa» channel.
On the screenshot: "There is a #Pyatnitsa (Friday), ex #MTV channel in Russia. In mainly airs reality shows filmed predominantly in our neibouring non-brotherly state. One of them is the #Patsanki (Tomboys). The idea of the show is qute original: the editors select about 10 not very decent young ladies from 18 to 25 y.o., who conduct antisocial or similar lifestyle and take them to a "lady school" where they are taught not to speak f-words or spit on the floor for a number of series…"
Afanasiev publicly expresses hate against LGBT community, calling them «sodomites and perverts». Hate speech against minorities is the channel's official position. Last year Tsargrad proposed to pay a one way ticket for any homosexual person who is willing to emigrate from Russia.
On the screenshot:
Tsargrad TV-channel
!!!Attention!!!
Maximal repost is appreciated!
If you are of nontraditional sexual orientation ☹ and are willing to emigrate from Russia, Tsargrad TV channel shall gladly buy you a one way ticket. :airplane:
You will need to have a medical certificate to prove your sodomy or other perversions and contact our speaker <3 Andrei Afanasyev.
Farewell, pervs!
Remove your children from your smartphone screens. If you are under 18 years old, go do some homework. I'll keep showing you some "wonderful" things…
Posted by Andrei Afanasiev on Thursday, October 19, 2017
«Tsargrad» is a ring in the chain of the hybrid information warfare instruments.
Despite his anti-West position, Afanasiev is a graduate of Complutense University of Madrid (Spain) and frequently visits EU and NATO member-countries. For example he was sent by the channel to Paris to back Marine Le Pen. Obviously these requests come from the Kremlin.
Afanasiev in Hamburg (Germany) is nervous about "promotion of perversions and left-liberal values regarding family and gender" and about "de-classed" European youth.
Afanasiev's having rest in Greece, the NATO member-country:
Independent reporting according to Afanasiev:
andrafanas: In #FederalCounsil during the meeting of commision for defence of soveregnity we discuss the ways we are oppressed and what can we do for a strike back. First of all, we need to set new code locks on appartment doors, because Obama has distributed the old ones prior to his resignation.
We should note that propagandists receive instructions from their political overseers during this kind of meetings – just one more evidence of total control over Malofeev's hybrid media projects.
A traditional indicator of propagandists and provokers – Petr Tolstoi (deputy chair of Duma Federal assembly of Russian Federation):
Aleksandr Petrunko (SERB), a hybrid warfare grunt and the head of Russian delegation in OSCE Parliament Assembly since 2017 Petr Tolstoi.
Read more: SERB – a pro-Kremlin stormtrooper brigade.
We ask the government of the European Union to consider the need of cancelation of working and tourist visas for propagandists, denunciators and employees of the TV channel, the owner of which has already been included into sanction lists.
This organization is not a relevant media and provides false information.
Information on «Tsargrad TV»
Media registration certificate № ФС 77 — 63691 issued on November 10th, 2015.
Chief editor — Sharoikina E.
Founder — non-public joint-stock company «Tsargrad media»
Editorial board address — 125375, Moscow, Tverskaya str.7
Phone: +7 (495) 374-77-73
Email: info@tsargrad.tv
If you have any additional information please email us at bewareofthem@protonmail.com or contact us via administration feedback channel @bewareofthembot.